This passed weekend the Supanova pop-culture exhibition was on in Melbourne, so, armed with two of the radest cosplay bros anybody could ask for, we threw on some Pacific Rim costumes and chilled out there for a couple of hours on Saturday.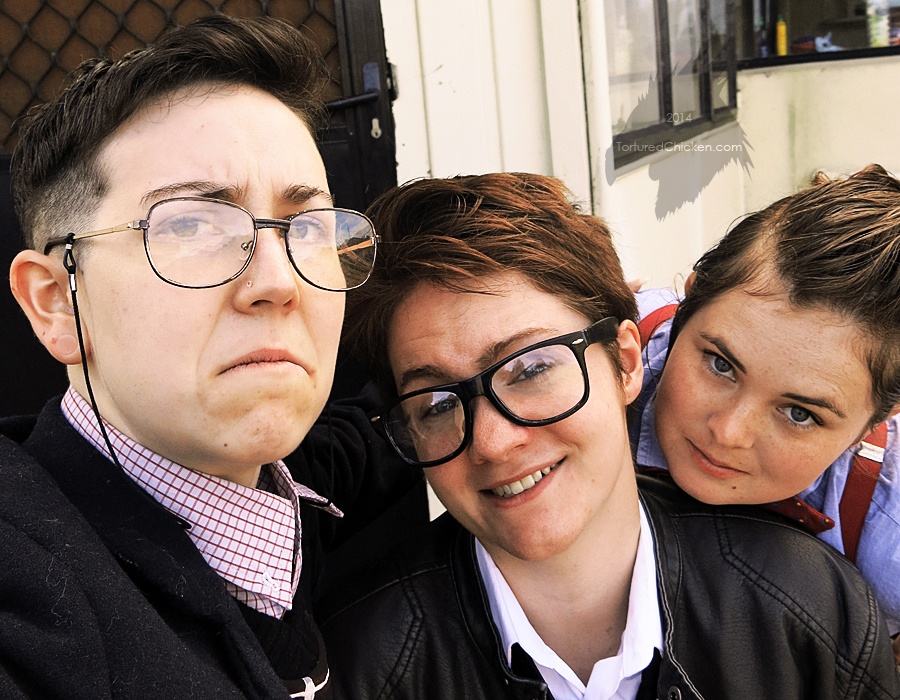 Kero as Tendo Choi, MaEmon as Newton 'Newt' Geiszler, and myself as Hermann Gottlieb.
There were a couple of hiccups; the tattoo paper didn't arrive in time for MaEmon to print up Newt's sleeves and I'd somehow completely forgotten to pack Hermann's walking cane- but all in all it was still a pretty solid day. Besides, there are always more conventions to attend and I'm certainly not done being Hermann just yet.
Seriously, I want my moneys worth out of this costume- and by money I don't even mean money. "Money" in this instance is a metaphor. For what exactly I am unsure. But the actual money spent on the costume is fairly irrelevant at this point.

I've said it before and I'll say it again: Do Not talk to me about OH&S. Ever.
What I'm trying to get at here, is that I finally finished adjusting that stupid jacket.
Never in my life have I ever put so much time or effort into something so deliberately and specifically ill fitting. It isn't even just the jacket. Shirt? Too big in the neck, too long in the sleeves, all over too wide. Trousers that manage to be simultaneously too wide and too short.
It'd be interesting to have words with the wardrobe team who worked on that film. Harsh words. But seriously, I could rant for days about my love for the design choices in Pacific Rim- in fact I have and am fairly certain that nobody outside of myself actually cares at this point; and those who do have probably already said everything I've tried to express in a far more eloquent way.
So I'll leave it… for now.

The worst fitting jacket I've known. But at least the cat-hair enhances this costume.
Feels good to have it done, has it really been almost a year since Pacific Rim came out? Well, the details on the rest of the costume are intermittently dispersed throughout blog entries if you know where to look, but just to reiterate:
Shoes and N-3B snorkel parka came from eBay, some minor alterations have been made to the fur around the hood of the parka.
Suit jacket, shirt, and trousers were found second-hand. Shirt has had buttons and button holes added to the collar. Trousers have been taken up by 10cm. Suit jacket was originally double-breasted.
Walking cane and glasses both came from a dollar store and have been painted.
Sweater vest was made from a jersey knit with ribbing around the neck, armholes and hem. The stripe pattern was painted on with acrylics and a textile medium.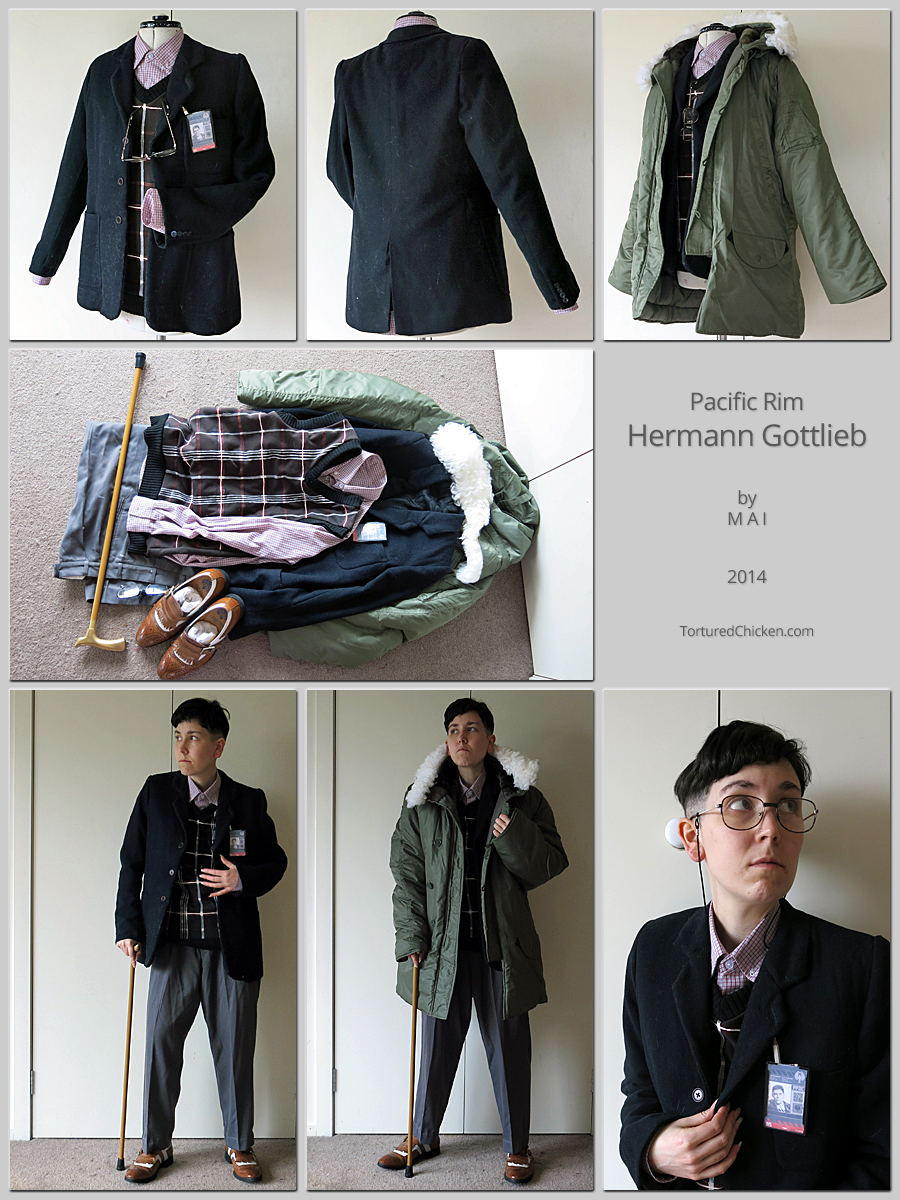 Fun fact: this entire project mostly only came to fruition because somebody made a stupid joke about my badly cut hair resembling Hermann's. One day I'll stop questioning my life choices and just accept that everything I do in some way relates to a dumb joke. That day is not today.
As well as finally finishing up Hermann, I whipped up a quick clip-on style bow-tie for Tendo.

Bow-tie for my cosplay bro… bro-tie?
It was made of lanyard parts and left over fabric from this tunic I made about a million years ago.

Eventually I'll figure out bow-ties that are actually tied, rather than clipped on.
The dotted pattern was painted on using acrylics mixed with a textile medium.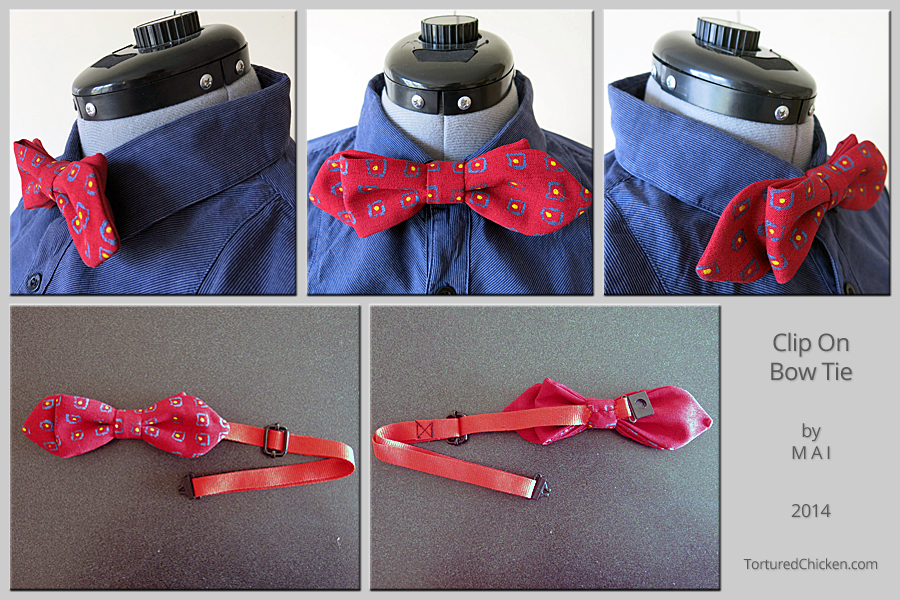 Clip-on bow-tie for Tendo Choi.
Costume junk can be found on the Clothing, Costumes and Crafts page in the Gallery.
Upon returning to MaEmon's house after the con we took a few snaps of eachother while still in costume. A few of my favourites have been processed and posted on the Cosplay and Photoshoots page in the Gallery.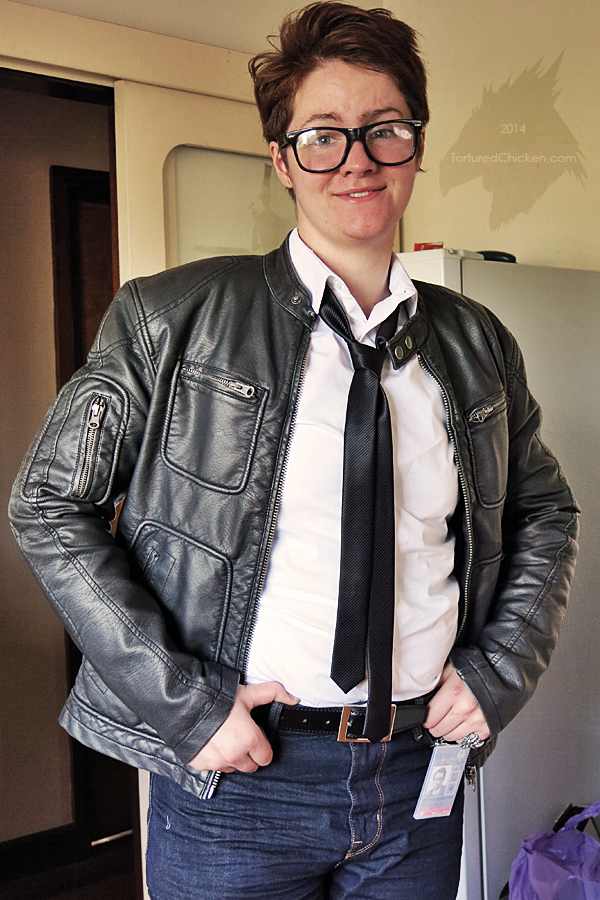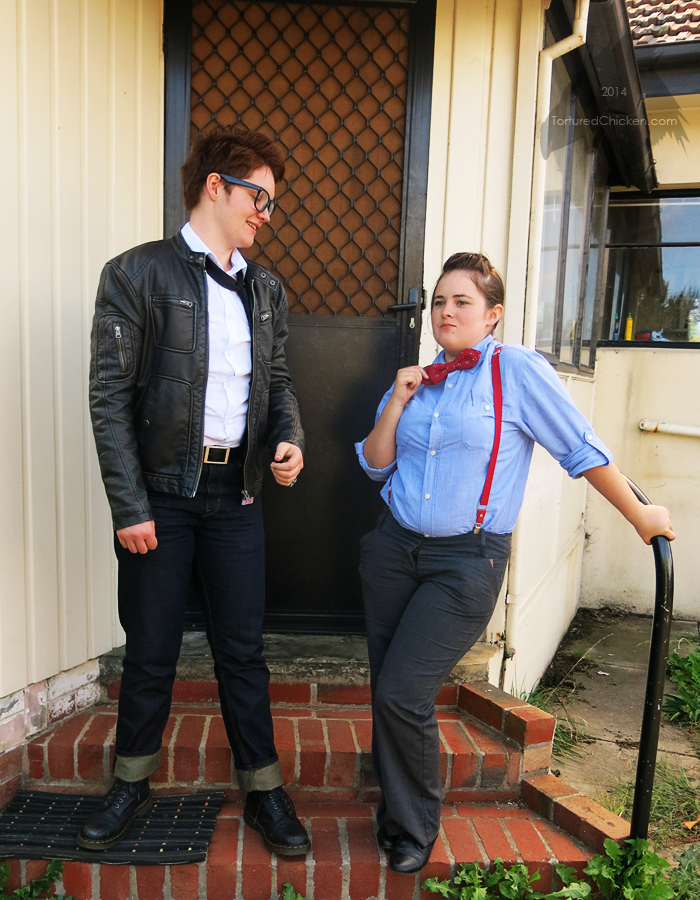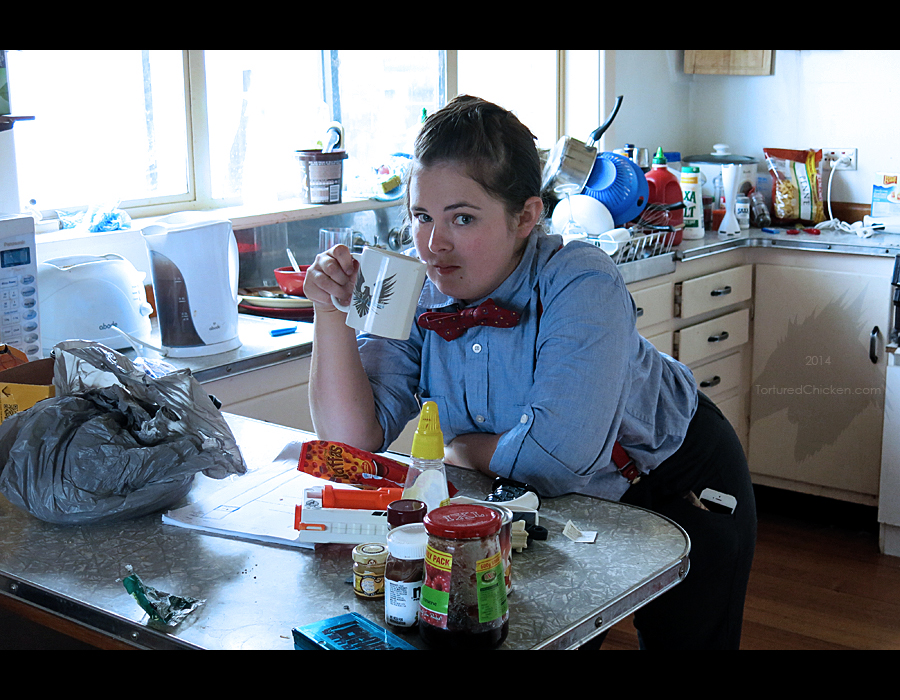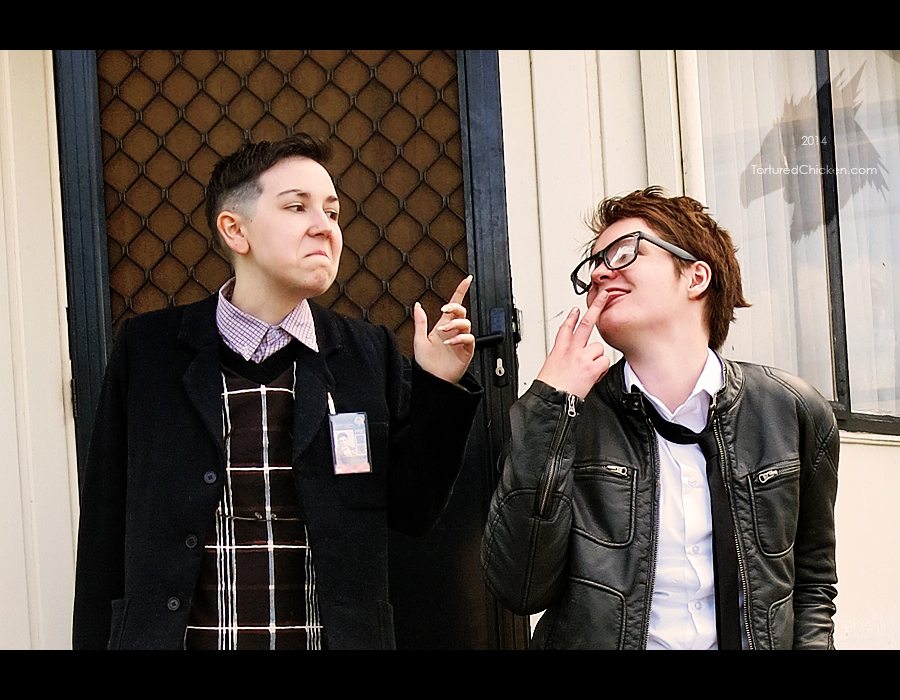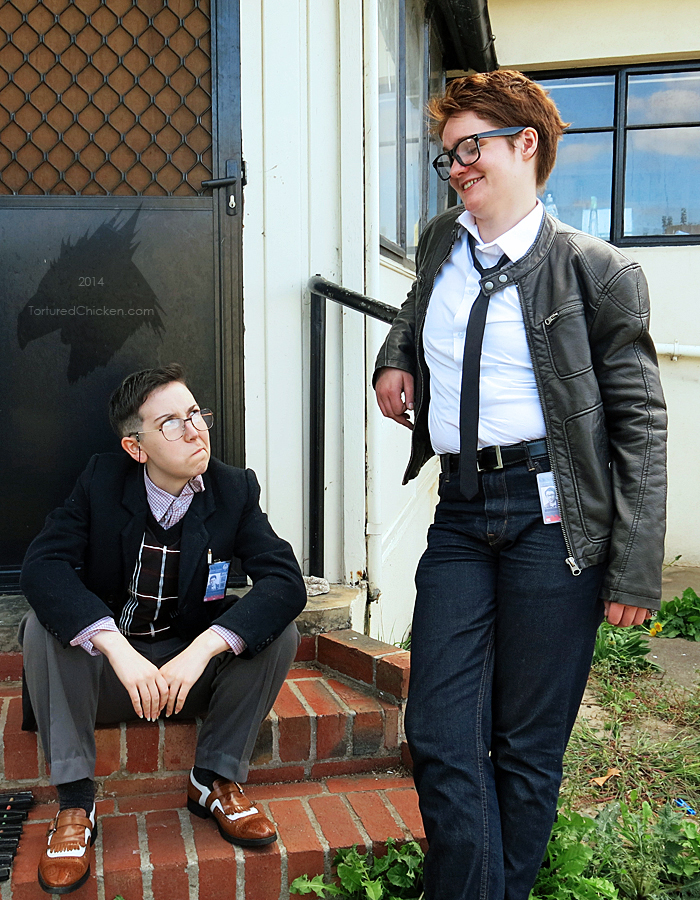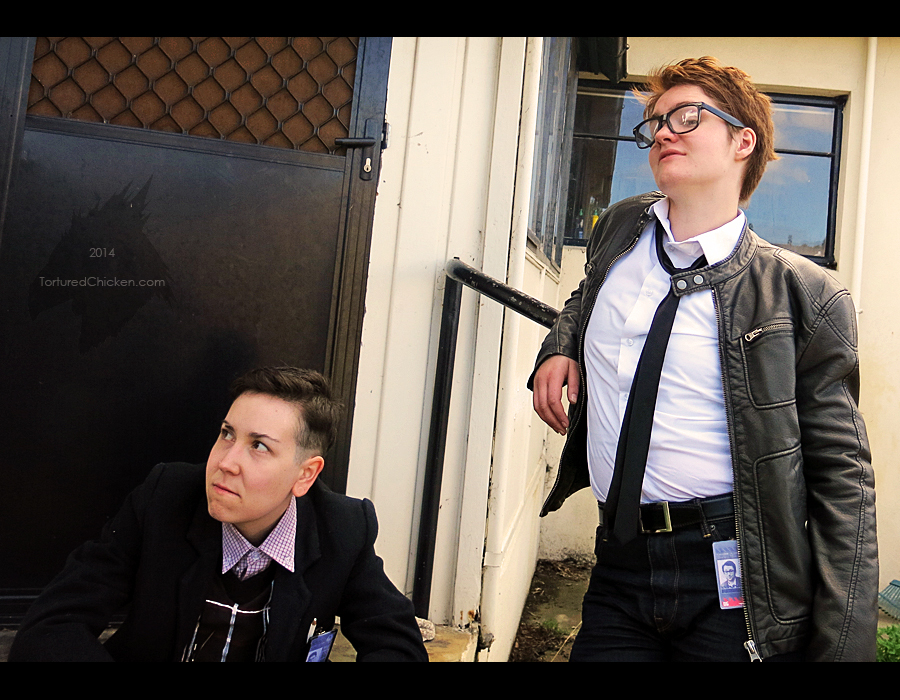 Sorry, I can't hear you over the sound of what massive dorks we are.
MaEmon made me stand on the stairs because Hermann is canonically taller than Newt while I am half-a-foot shorter than MaEmon. Also Kero is the cutest Tendo ever, do not fight me on this, and MaEmon has some serious ability to summon some kind of inner Charlie Day I sometimes question whether they're secretly the same person.
Well, an outing in costume is not complete without some candid shots or bloopers along the way, and Tendo snapped a good one of tuckered out Hermann snoozing on the couch to finish things off at the end of the day.

Newton was making pasta, it was really good.
Part of me wants to make disparaging comments about pleated trousers before ending this, but I'm too exhausted to attempt humour.