The new year has hit and I can't help but wonder… if it's 2015… does that mean I have to get in the fucking robot now? Y'know, eternally being an emotionally challenged 14 year old and all? Or does it only count if you were actually born in 2001?
Is everybody sick of Evangelion references yet? Should I start on Back to the Future instead?
… No?
Okay.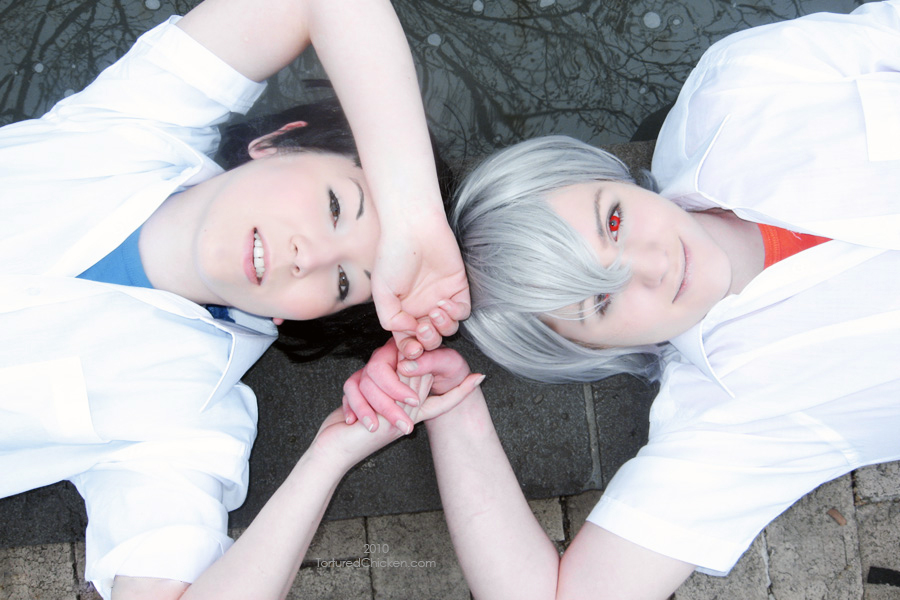 For real though, I need to cosplay Shinji again at least once this year. With a better wig. And more hand-holding. MaEmon is the best Kaworu.
Over in Tumblr town, toward the end of 2014, a tag was going around for "six selfies" from throughout the year. Being incredibly vain I jumped on that, but then kind of thought: why stop at six? Why not twelve? One selfie from each month throughout the year of 2014!

In the future it'd be neat to do a 365 selfie challenge. But that'll take a greater degree of organisation than this.
2015 was introduced in the usual way; a big old costume party at Sabi's parents' house, filled with food, drinks, games, friends, family, and other acquaintances.
This year the theme was "science fiction".

Sabi in a TRON inspired dress, two of her siblings in matching Doctor Who Dalek and TARDIS dresses, Shulk from Xenoblade Chronicles with an awesome light-up sword Sevenpies helped him to construct, and Tech Support playing against Chris (neither of whom were in costume) in the bungee run outside (photo swiped from Ducky because mine weren't as funny).
Time and motivation were not on my side for producing new attire thanks to a number of extraneous factors; but my Hermann Gottlieb (of Pacific Rim) costume had undergone a number of alterations and updates since his last outing at Melbourne Supanova back in April, so he seemed like a good choice for the occasion.

Unfortunately my Newt was attending a different event (presumably not in costume).
In the not-too-distant future I hope to remake Hermann's jacket from a more screen-accurate stripe fabric, then he'll be just short of perfect. In my dreams I'll get properly styled prescription glasses for him too, but let's try to keep it real for now.

Fact: Everybody loves Hermann's shoes.
Ever since stepping out in a suit with a cane Tech Support has taken to calling me "Penguin".
Apparently he feels that I bear some resemblance to the DC Comics character Oswald Cobblepot. The suggestion had me a little worried at first, picturing Danny DeVito of the 1992 Batman Returns film. Not that DeVito isn't a talented (even rather cute, if I may be so bold) actor, he just isn't the personal aesthetic I generally aim for.
Reassuringly, Tech Support went on to specify that he was in fact referring to Robin Lord Taylor's portrayal of the character in the recent Gotham television series. Upon enquiring whether or not it was the bad haircut, Tech Support, in front of his guests, already slightly drunk courtesy of the copious amounts of beer and cider currently residing in our refrigerators from a brewing session they'd participated in to celebrate his little brother's bucks party, enthusiastically responded: "Yeah! Also you have a pointy nose, weak jaw, and huge flappy ears!"
Then I was back to square one on whether or not it was intended as a compliment.

Nor am I sure if the resemblance is a general thing, or limited to when wearing a suit.
Future cosplay, perhaps? Gotham's Cobblepot is exactly my type.
Back on topic; Hermann made a blueberry kaiju cheesecake to share at the New Year festivities.

Kaiju cheesecake.
It seemed to go down well, which was good, I don't cook very often. Not for people outside of Tech Support, at least.
The recipe was loosely followed from "The Really Hungry Vegetarian Student Cookbook" (a gift Tech Support received from his family over the holidays), though I added a bit of blue food dye to the topping for a more 'fresh kaiju-entrails' colour and also dates just because I fucking love dates they are so delicious.

Kaiju cheesecake actually got eaten!
A lot of long drives back and forth across the city (across the state, even) had me pretty wiped out by the time NYE hit. So, while it was absolutely wonderful to see people, several of whom I hadn't caught up with properly in quite some time, I got a tad loopy toward the end of the night and wasn't feeling hugely energetic to start with- let alone by the time 2015 finally hit!
Heck, at least one person even questioned whether Hermann's walking cane was purely part of the costume or a genuine requirement for my mobility.
Providing a clear answer to that question didn't feel necessary then and it still doesn't now. The youthful appearance of a 14 year old boy artfully paired with the physical capabilities of an 86 year old man. That's me.
When did we get so old?
Shortly after the countdown I dragged a frustratingly cheerful, mildly intoxicated Tech Support back home (I'll spare you the photos he bombed while brushing his teeth in his underwear- but not the one of Claude rolling around in my discarded shirt) and went to bed for 12 hours.

After the party, so ready to hit the bed.
The last few days before he goes back to work have mostly been spent avoiding the heat under the soothing breeze of the air-conditioner and playing Diablo on the PS4.
Well, he plays Diablo and tries to convince me to co-op while I dick around on the 3DS instead.

All my RP characters are in Tomodachi Life. Best decision ever.
Congratulations, Earth, on another successful lap around the sun!