So you know my Schrödinger costume and how I sat on that fucking shirt for about eight months or something stupid like that?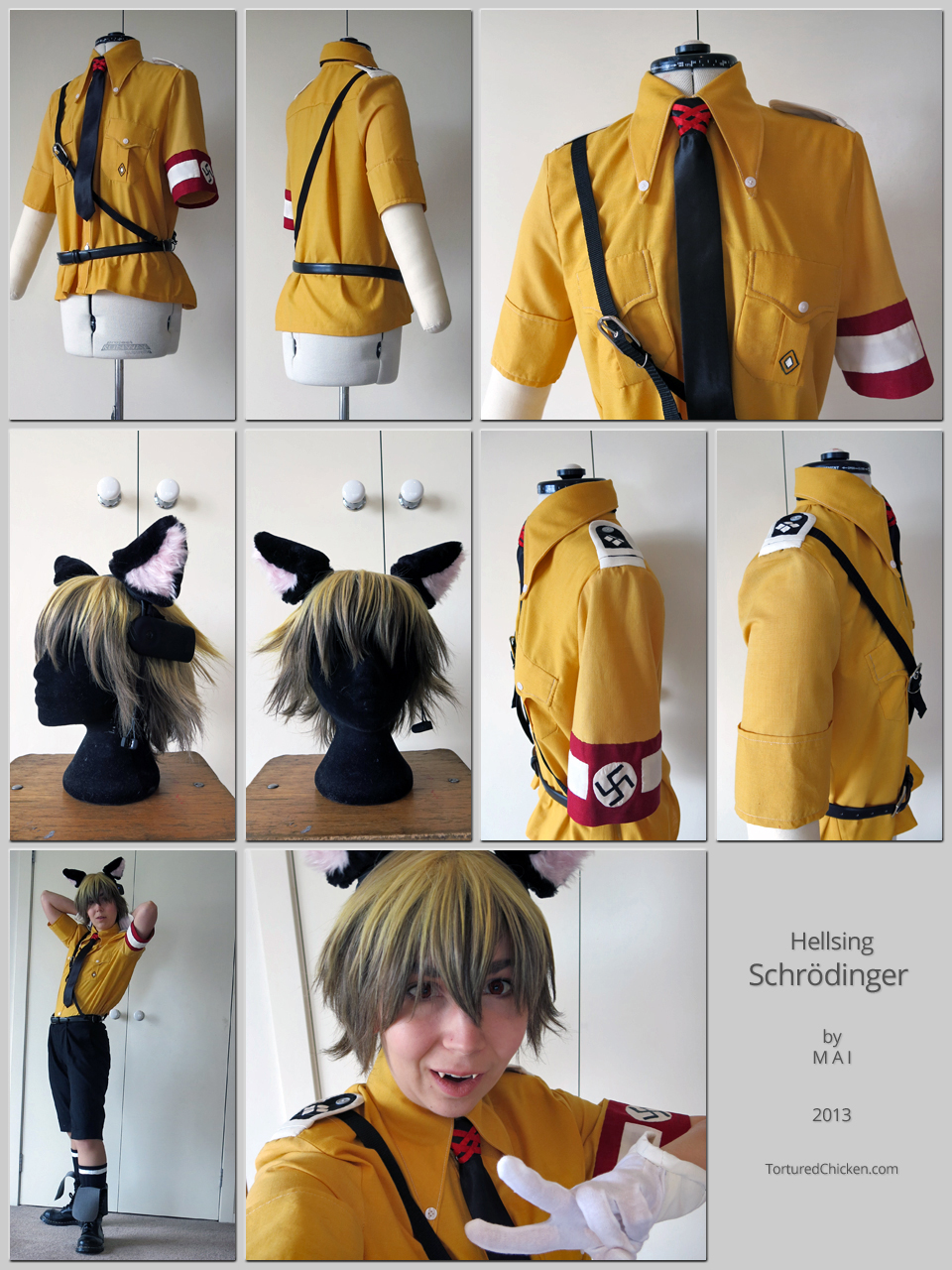 Well it's finally finished now, so there!
Last Tuesday (the 6th) MaEmon dropped by my place with some pattern paper as I'd agreed to draft something up based on the jackets from the uniforms depicted in the anime series Attack on Titan (she's planning to cosplay that to Manifest, see).
That Thursday (the 8th) I realised just how fucking soon Manifest actually is and managed to draft up the pattern in around… 6 or 8 hours, I'm not sure exactly.
Initially I was just going to be handling the pattern but then… I found out how much other work MaEmon had to do in that time frame and well… last minute cosplay-rush protocol was initiated.
Let me explain you a thing: I have not rushed this hard for a convention since the time we did Soul Calibur in the Manifest of 2010.
Honestly not 100% sure that I've actually even slept at all since last Thursday (so forgive me if this entry gets sidetracked and/or disjointed).
On Monday afternoon we purchased the materials and by two o'clock Tuesday morning the first of the two jackets was finished.

MaEmon was working on an Octodad head while the Helpercat™s and I hooned through the first jacket.
Jackets are made of cotton twill, interfaced with a mid-weight woven fusing.
Buttons were hand-sewn on (sans button-holes, being on a tight schedule).
Sword decals were drawn up as vectors, printed on transfer-paper and ironed onto the fabric.
It took just under 12 hours. Maybe even closer to 10?
My everything hurts.
MaEmon then took the first jacket away to deliver to its new home (I hear the reception went well) and I set about jacket no.2 for her…

At one point running out of supplies and needing a quick pit-stop back at the local fabric store. I was in no state to be going outside, driving, or interacting with other humans that day, let me tell you!

You may also notice armsocks around the mannequin's neck. More on those shortly.
… Taking a sleep break at 1am upon realising that one of the refrigerators was attempting to engage me in conversation (and I wish I was joking about that, I really do).
Managed to get the sleeves and hem down on Wednesday morning and…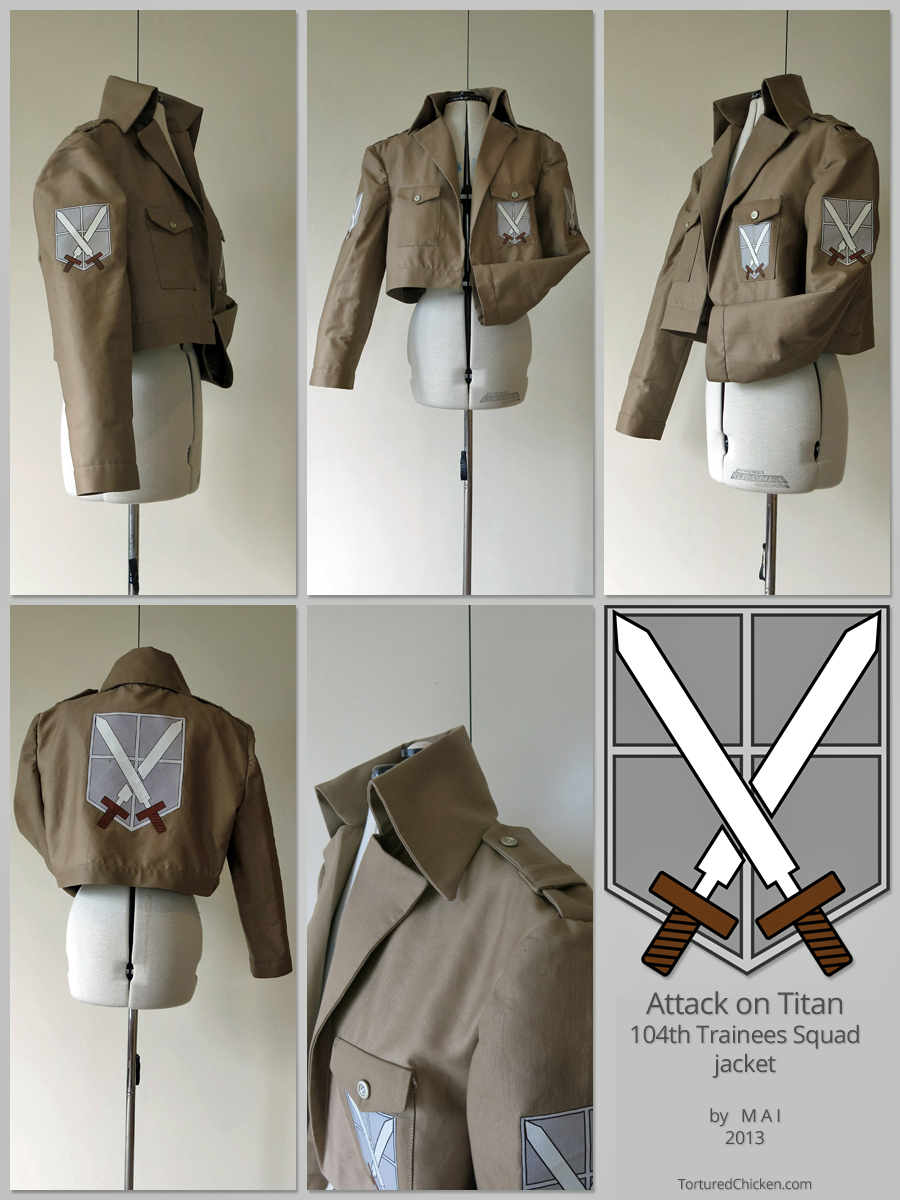 Huh, so there we go?
There are a number of things I'd have done differently, time (and money) permitting, but all in all, from a "mass production" standpoint, these have come together really well.
Total time from drafting to completion? About 30 hours? 12 per jacket and 8 for drafting? Fuck that. Even if we're not condensing the time down, it was still under a week.
With time to spare for preparing MaEmon some armsocks!

She's getting in on some Maggot Boy cosplay with me and armsocks beat the hell out of hands make-up smudging all over everything you touch.
The same method was used as the armsocks I made some weeks ago for myself, details of their construction can be viewed over here.
Which leaves us with the fact that Manifest is this weekend.

It will be the 8th consecutive year I've attended! Though I do seem to have misplaced the pass from '06, which was cardboard, so probably became damaged or disintegrated over the years. If it counts for anything, I did obtain the lanyard in '06.
Cosplay plans for the weekend are as follows:
Guess who's going to be wearing prosthetic teeth all weekend?!

The top (Karkat) and bottom (Owen) sets were made of polycaprolactone (Plastimake brand). The middle (Schrödinger) set was purchased from Tragic Beautiful some years back, the brand is Bloody Mary, they slip on over your existing canine teeth, but unlike the other two pictured sets which were moulded directly over my teeth and sit in place without any extraneous help, Schrödinger's require glue to stay in place. I usually just use denture adhesive since it's affordable, readily available in most pharmacies, and often has a minty-fresh flavour.

Also, remind me to get petrol sometime before leaving for Manifest. Stopping at the service station in full face paint, or dressed like Kouta Hirano's Schrödinger, seems like a not-good idea.
See you on the other side!