It's that time of year again. That is, the time where I settle in for aestivation and pretend adult responsibilities don't exist.

Me avoiding my responsibilities.
Sorry for the general absence. In particular I apologise for not updating the comic since… August? There are pages in progress, this is merely a case of neglect rather than all out abandonment, and I do intend on having at least one more up before the end of the year. If my intentions even hold any real value at all.
Things have actually been quite good recently (outside of the usual anxiety and heat-exhaustion this time of year brings; perhaps I should move to the northern hemisphere? If Christmas and summer didn't coincide my coping mechanisms may not be stretched quite so thin). Or at least busy, which is why some things have been neglected; there is only so much time in any given day.
One particular thing that has been consuming many of my waking hours in recent months involves two characters, Essy and Rothschild, created by and belonging to my co-pilot, MaEmon.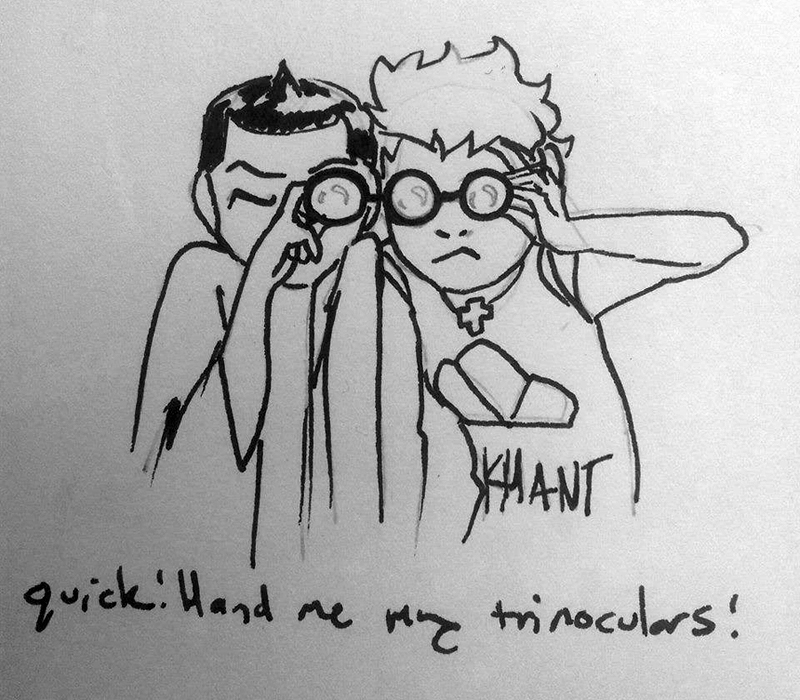 Rothschild and Essy with trinoculars by MaEmon.
Essy and Roths are actually revamped versions of two of MaEmon's old RP characters from our highschool days- in fact, if you take a gander at MaEmon's Art page in the Gallery, you may even happen across a couple of their previous incarnations!
Their recent return to relevancy even had my own pen scratching these precious babies onto paper, posted to Other/Uncategorised for the time being.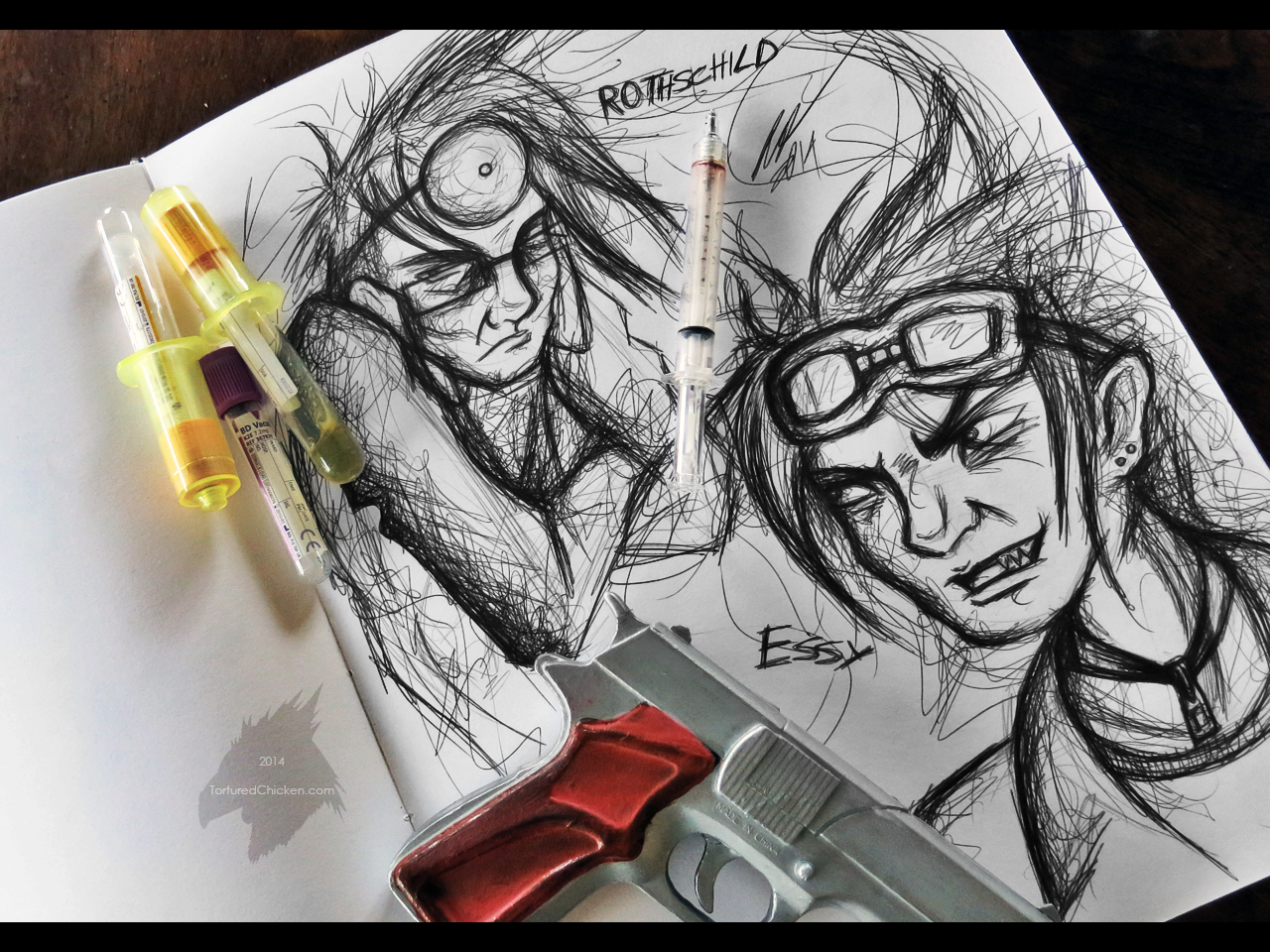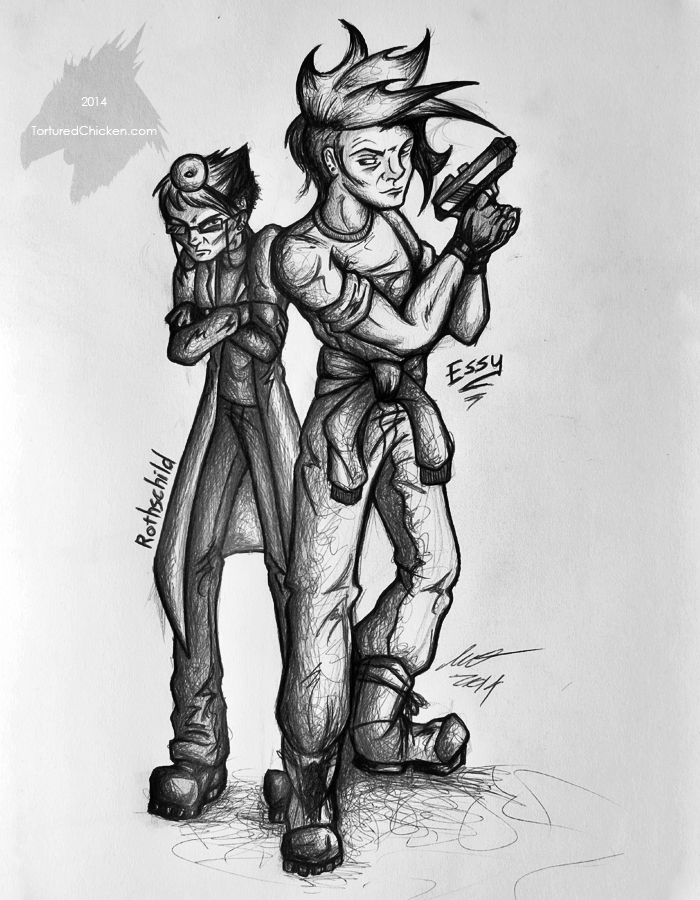 Rothschild and Essy scribbles.
Never one to be satisfied entirely by drawing, I've also stepped into Roths' shoes; quite literally.

If MaEmon is Essy then this was the only logical course of action.
The lab-coat and mirror were gifts from MaEmon, and we've been hitting up Daiso stores, among other places, for medical goods, among other things.

The Hello Kitty face-masks really help to take the edge off while Roths is elbow-deep in your exposed viscera.
Indeed, Roths may well have become a venting mechanism for my rampant medical fetishism.

Self-medicating with Rothschild.
The new lab-coat had a couple of raw-edges so I bound those up nice and proper with a black polyester satin, then set about cutting an old turtle-neck dress into a top.

Because Roths needs more turtle-necks and I need less dresses.
But realistically what we all need is more lab-coats.

Lab-coat appreciation post featuring: Syringe Zombie James, 2014 Halloween, Rothschild, and TF2 RED Medic.
Which reminds me; I did all that work on the waistcoat version of my TF2 Medic for PAX Aus, but never actually got around to putting on the entire costume; indeed, he hadn't been out since before I even obtained the 20-eye Gripfast boots (which were purchased specifically with him in mind).
So, although I still have quite a bit to do reworking the harness to better support the Medipack, here's a couple of preview images without any props or make-up:

Team Fortress 2 RED Team Medic.
That… pretty much covers everything for the moment. At least everything medical. Unless you're interested in seeing the chest X-rays I got last week? Sometimes I think it'd be neat to build a big light-box to display all my X-rays in the house, but I'd probably need somewhat more space for it to really be practical.
In any case, hopefully there will be a lot more of Essy and Rothschild to share in the future.