Every few months I make a point to go through the closet and sort through all of my clothing. As somebody with limited space, little self-control, a constant stream of costumes, and a penchant for opp-shops- it is a necessity, lest I drown myself in garments.
During one such clear-out late last year an old waistcoat was unearthed, haphazardly shoved into a corner of the wardrobe. It was one I'd picked up during highschool, and was far too nice to throw out, despite being far too large for me.

Here's a photo depicting it (worn with the hooded cape) taken by Koely early in 2007.
With an upcoming wedding I figured it'd be neat to fix it up for the occasion and set about taking the thing in, adjusting the armholes, repositioning the buttons and button holes, then finishing off with some decorative binding around the edges.

Waistcoat alterations.
Unfortunately, all said and done, it was unsuited to a particular pair of puffy shorts I was dead-set on wearing to the wedding, so the waistcoat was shelved.

For what it's worth: this is what I wore to the wedding instead.
It felt like a waste to put all that work into something only for it to wind up back where it started; that is, unceremoniously tossed in a closet somewhere, so I got to thinking about other uses…
The decorative trim was the same fabric as used in the outfit created for the goat.
Golden Owl Events' Midsummer Faerie Rade was coming up.
Suddenly a new outfit for the goat seemed to be in order.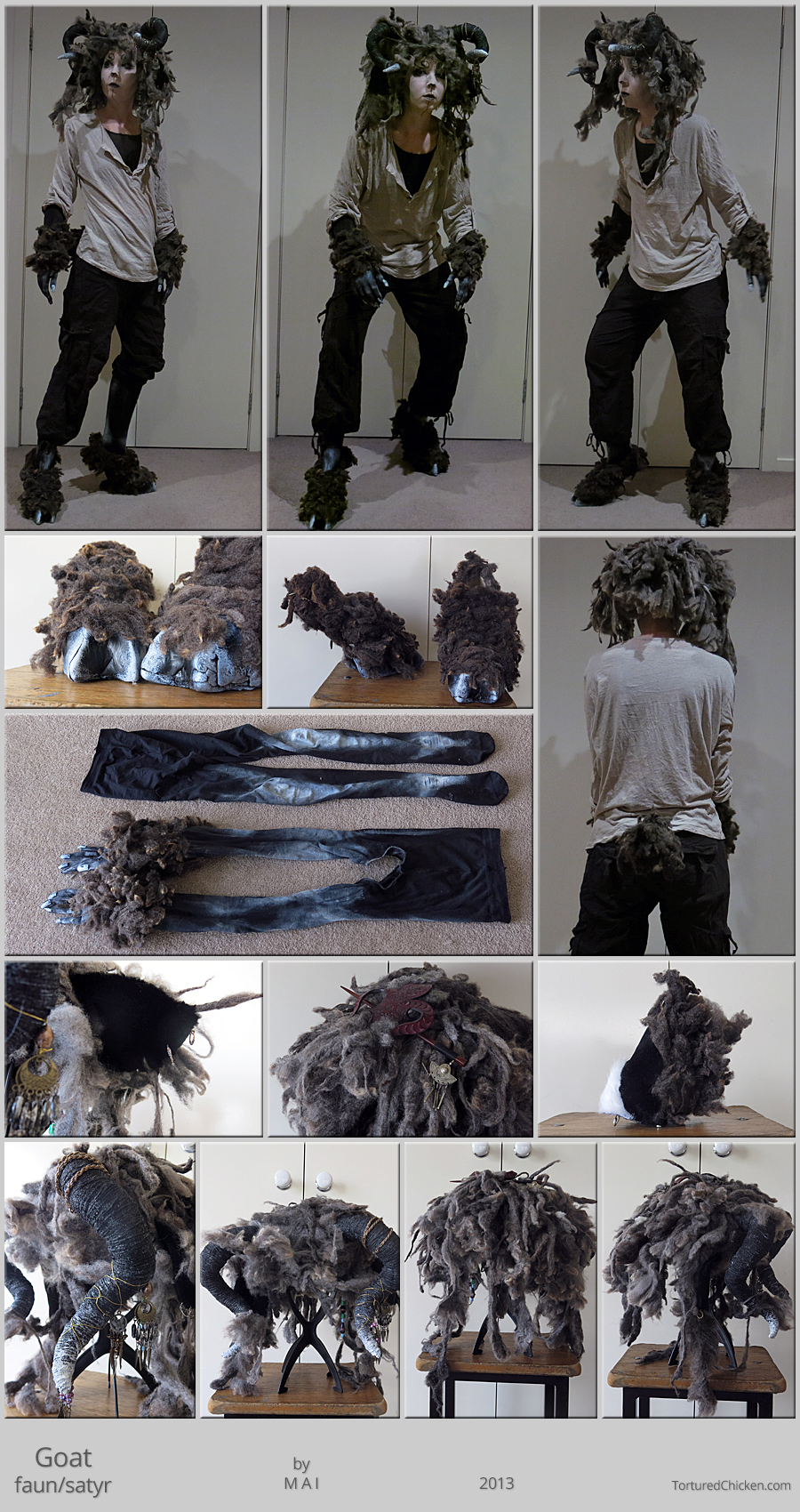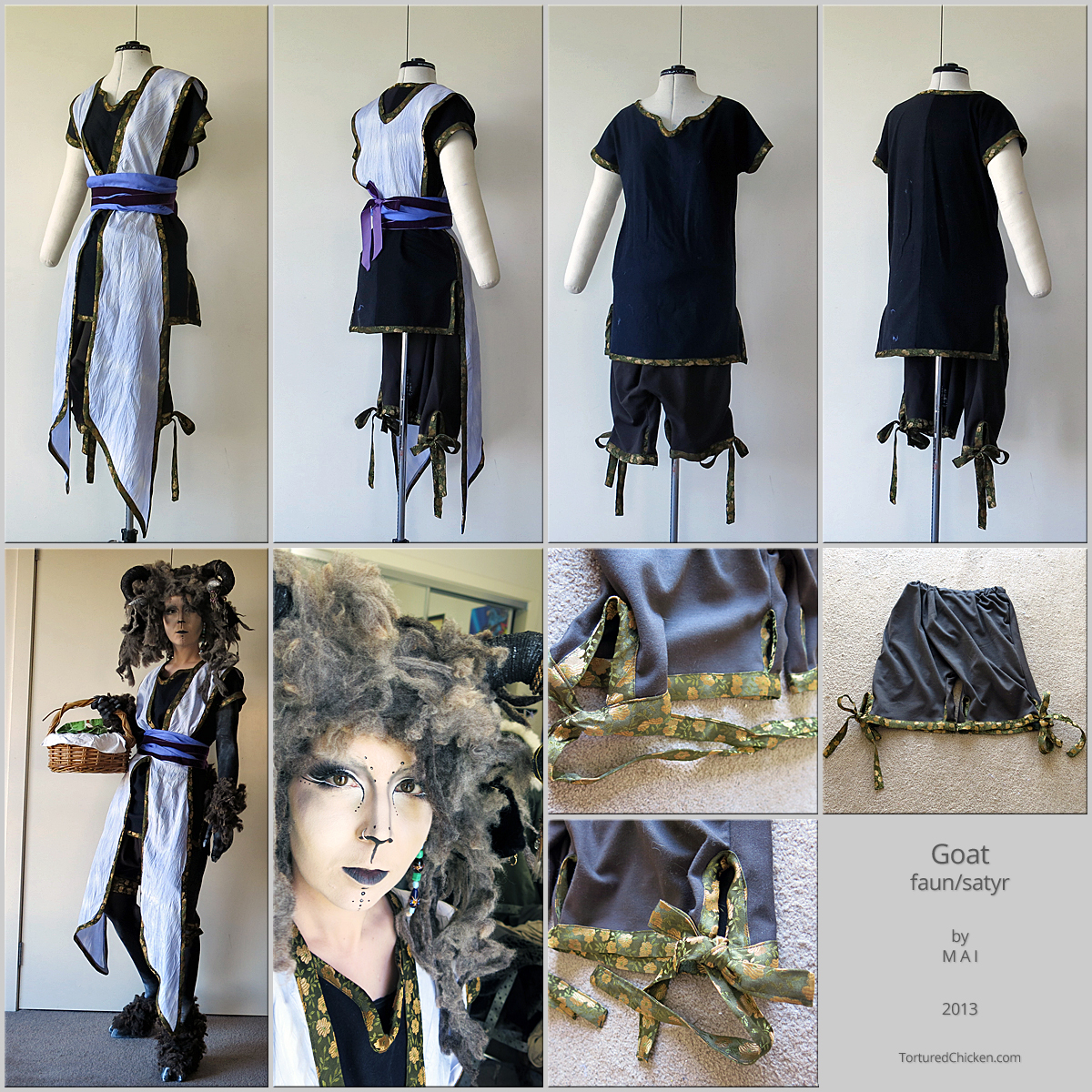 Though the goat is an original creation (think: "What if Jim Henson directed Pan's Labyrinth/El Laberinto del Fauno?"), it has been named "Mei" after the goat character from One Stormy Night (あらしのよるに/Arashi no Yoru ni).
The trousers are made from a crushed velvet outer with a cotton lining. They feature an elastic waistband for practicality, and gathered cuffs with decorative beading.

Crushed velvet, otherwise known as: "Why do I hate myself so much?"
The pattern for the trousers was more or less a refined version of that used for the trousers in Mei's first outfit; notably the cuffs are gathered instead of tied (tying knots proved far too impractical where arm-socks and false nails are concerned), and the dropped crotch features a gusset for better mobility.
With a new top and trousers sorted, a belt to hold the tail in place seemed like a good place to go next.

An attempt to use up some of the copious amounts of beads, lace, and scrap fabrics residing around the house.
In the past the tail has simply been pinned to the back of the clothing, but the pins ran the risk of coming undone and the clothing wasn't structured well enough to keep the weight of the tail from drooping.
The belt consists of entirely separate front and back pieces. The outer is the same fabric as used for the trim, while the lining is cotton shirting. The entire thing is interfaced with a mid-weight fusing, and back portion features a stiffened linen core to better anchor the tail, which was hand stitched in place.
There is a gold button on either side where the front portion can be attached via welted button holes. Having the front and back as separate pieces means that the fronts can be interchanged depending on the outfit.
For the Faerie Rade I made a front section featuring a decorative flag and beading.

Not to mention bells; this costume chimes and jingles like nobodies business.
Then put together a more plain piece for the other outfit, as the flag would be far too distracting with the smock draped over it.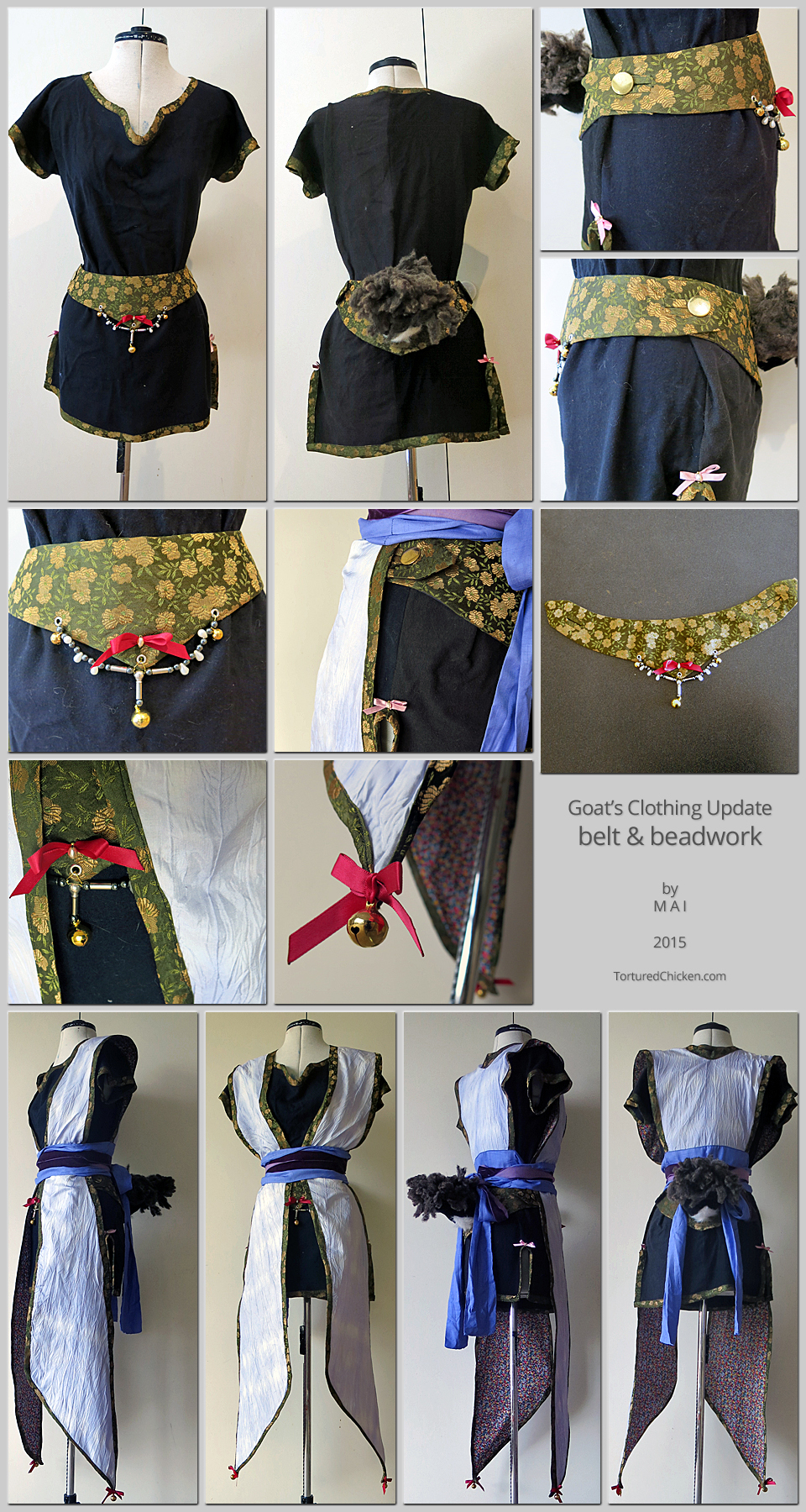 Simple belt, amongst other things, for Mei's first outfit.
The smock from the first outfit has also had some alterations in the form of interfacing and lining. The interfacing is just the usual mid-weight fusing while the lining is a colourful floral print cotton shirting- which shines beautifully through the outer when the lighting is just right.
Bells, ribbons, and simple bead work was also added to the lowermost corners of the smock as well as above the side splits on the tunic.
While the newly constructed summer outfit looks a little more like this:
The Midsummer Faerie Rade was held on Sunday the 18th of January, beginning in the Treasury Gardens, trekking through the CBD, then finishing up in the Fitzroy Gardens for a picnic.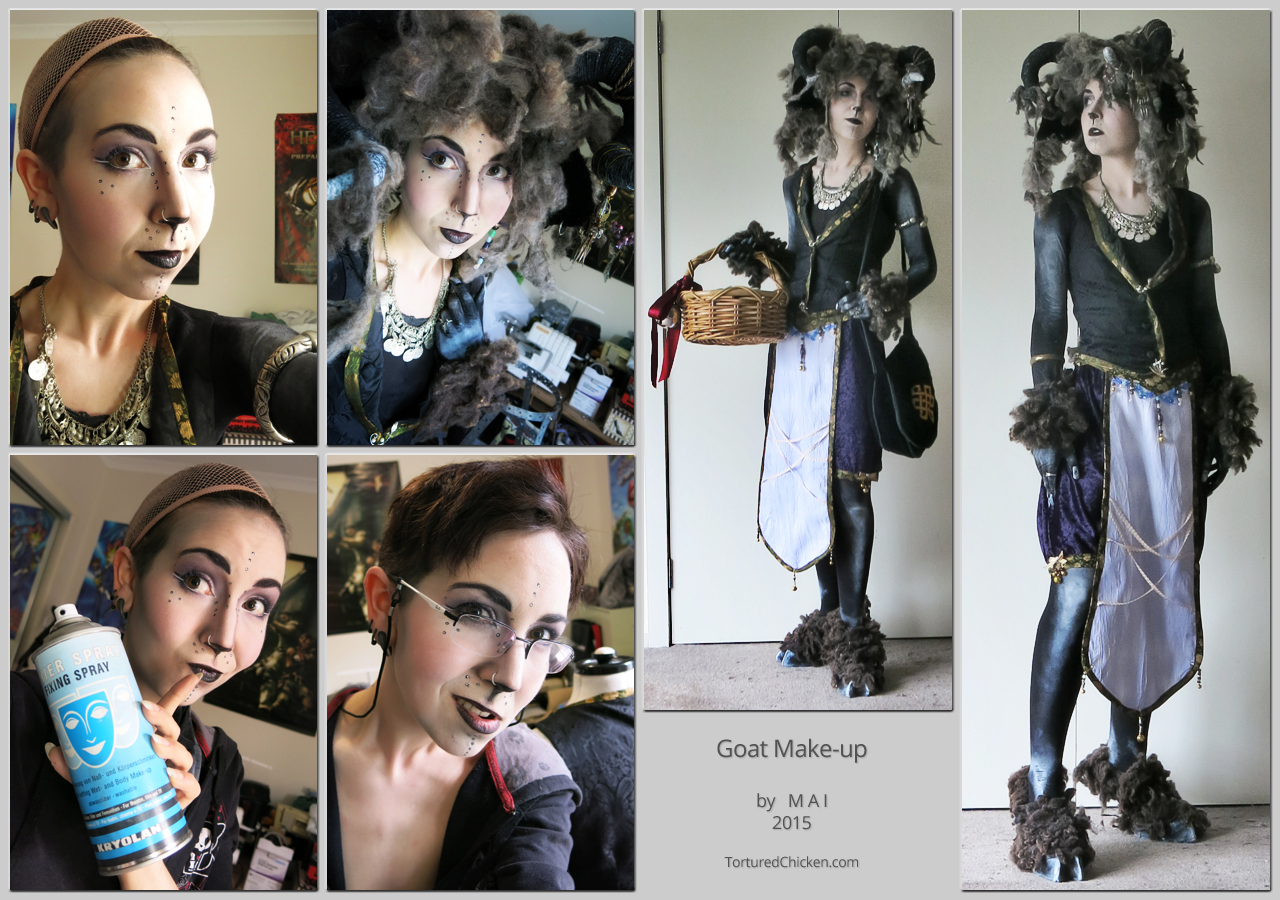 5 of these photos were taken before leaving, while the one with glasses was after returning home.
The day started early for make-up and the spontaneous decision of baking some mocha cookies to share.

Mocha cookies dipped in chilli chocolate sauce.
Aside from cookies there was a selection of bells and ribbons in my basket to gift and trade with other attendees.
Staying up until 2am screwing around with bells may have been a bad choice, but everything came together in time to leave. Heck, for once I was even organised enough to pack backup footwear!

Because eventually the luck will run out and I'll break my ankle falling off those hooves.
Hallward was generous enough to swing by and drive, for which I am eternally grateful. Mei is not really suited to driving courtesy of limited visibility plus poor grip associated with arm-socks, and I'd really rather not be a goat on public transport. It was all very reminiscent of last year's Wintervalk. Minus the part where Hallward got stabbed in the eyeball by my big clumsy horns.
Somehow we pulled up about half an hour early for the event and got a perfect parking space right in between the Treasury and Fitzroy gardens; meaning plenty of time to frolic, mingle, and take photos with other attendees!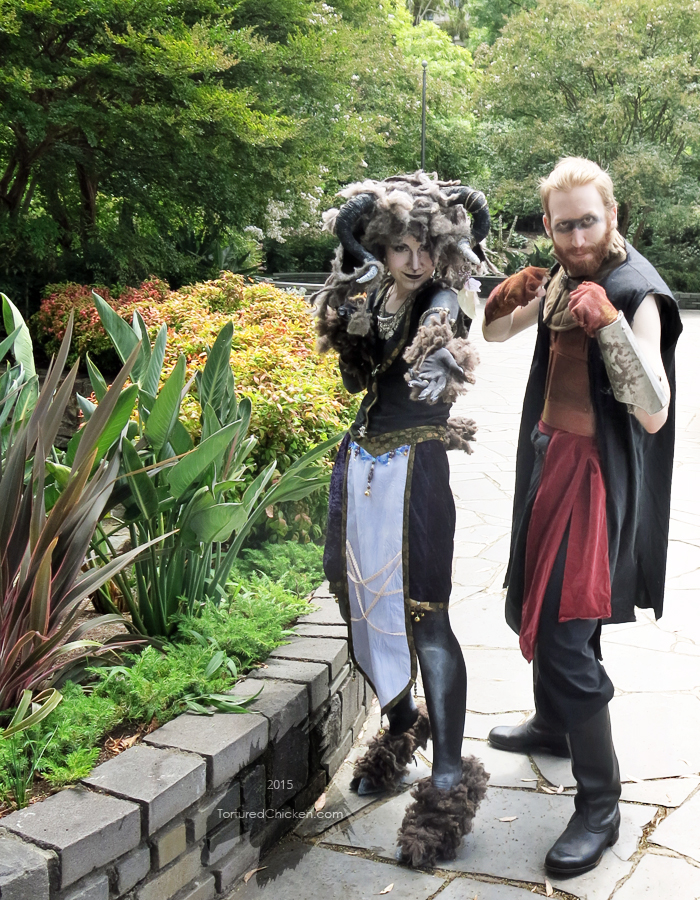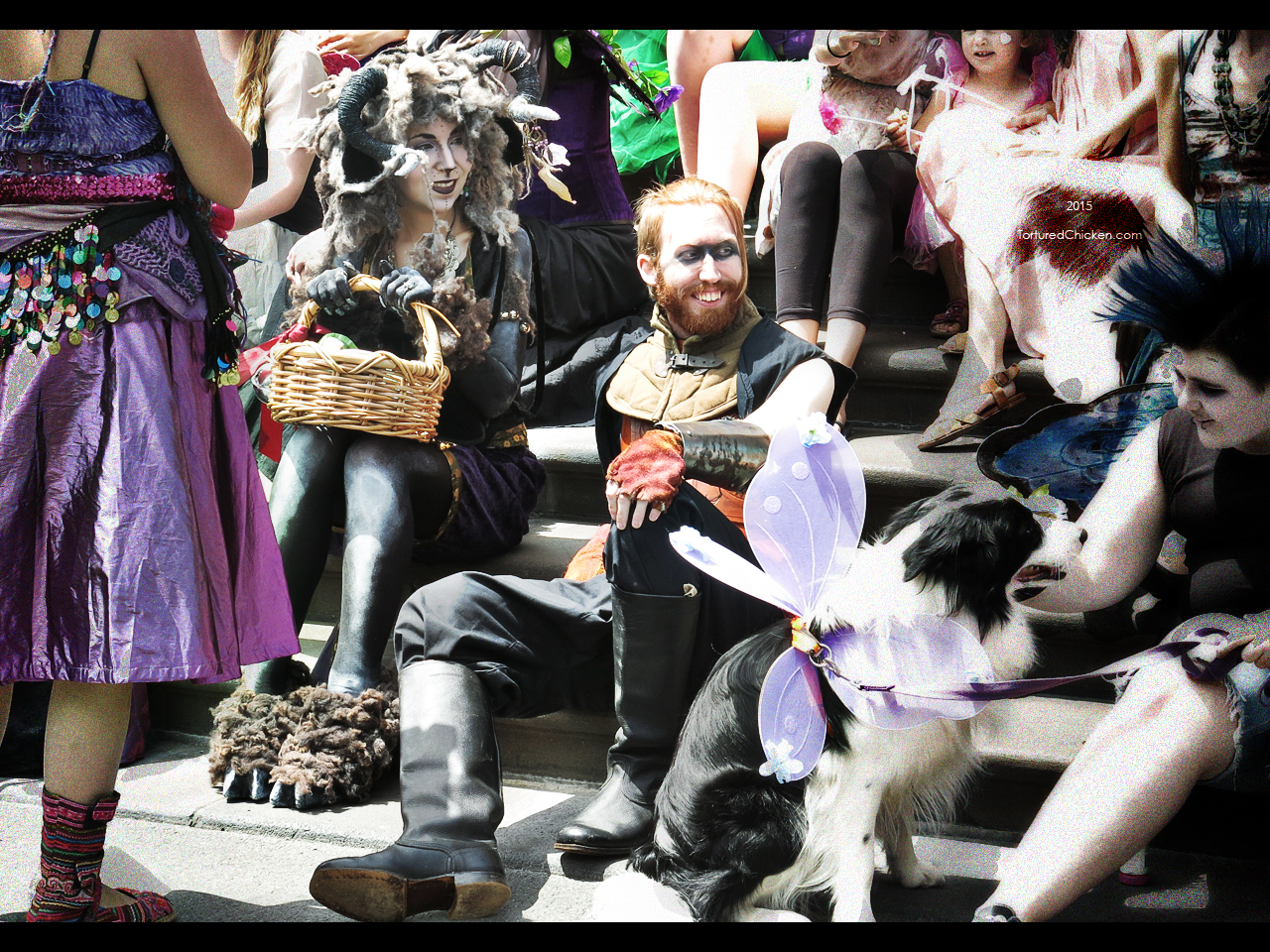 Special thanks to Mike and Gadam for taking photos.
Gadam and Mike had been across town at the Midsumma Carnival so decided to join us for the Rade. Naturally I tasked them with the camera as punishment for not wearing costumes.
They departed shortly after the Rade while Hallward and I took some time to rest our feet in the gardens and offload cookies on hungry acquaintances, retreating home around 16:30 where Hallward joined me briefly for a cup of tea before returning to his own residence.

Loot from the day: a print by Hallward undergoing Helpercat™ approval, a red bug acquired from a young faun, and a tube of bubbles obtained from a blue fairy. Not pictured: a leaf with "You Are Beautiful" written on it that had been tied to my horns by two fairies, but unfortunately got blown away in the wind.
Kicking off the year with a solid costume based event was a good choice; even the weather was clear without being too hot (although the only reason I didn't get sunburned is probably because Mei has like… 95% skin coverage).
A handful of pictures have gone gone up in the Gallery on the Clothing, Costumes & Crafts as well as the Cosplay & Photoshoots pages for your viewing pleasure… If you're into that sort of thing, I mean.