You know whose trousers were finished in time for a photo shoot at the beginning of the year?
Oberon's.
Though Oberon himself hasn't been out in full even now, some… almost a year later. The Goat was the one who debuted his trousers, for the aforementioned photo shoot, in January, which was discussed here, during April (your feeble human concepts of linear time mean nothing to me).
Ignoring the specifics, it really has been a year. Oberon was last year's New Year costume and I'm only typing this entry halfway through constructing this year's project.

But more on that hot mess later. And by "later" I may or may not mean "this time next year" (assuming I live that long).
Can you believe there was a time when I'd write down everything every single day? That was 10 years ago. Motivation? Never heard of it.
Now, in December, it might actually be time to explain the construction of that whole Oberon mess in a little more detail.
His horned crown was constructed from a cardboard base, newspaper and tissue paper, while the horns themselves are polystyrene balls and aluminium foil wrapped in acrylic yarn. It was a similar method to the goat's headpiece (which, evidently, was also a New Year project), but on a solid base (rather than fabric) and without all the felted wool.

Oberon's… goat crown, I guess?
Speaking of felted wool, though it was Betty's wool utilised in the Goat, I feel a need to mention that Stella the sheep passed away earlier this year.

Coconut Chicken sitting on Stella Sheep on a rainy day in May of 2007. Rest in peace you horrid cloven-hooved beast.
Okay, mutton mourning time is over. Back to work. Or whatever this is.
Once the paper and glue was all dry it was coated in bright white gesso before being given a thorough coat of black enamel, and light dusting of gold for the horns. It was then finished with a coat of matte sealant.

Sometimes, whilst drafting patterns, I low-key wanna track down my year 9 maths teacher and punch her right in the teeth for constantly belittling my numeric capabilities. Punching humans in the mouth however, is generally ill-advised. So I refrain.
The hood was drafted to fit over the crown's ears and horns, the drafting for which was a lot more cumbersome than originally anticipated. But I may have already discussed this fact at length?
The cape itself was drafted to have an open front with points around its hem in a sort of bat-wing design.

With plenty of shiny gold binding.
The collar is interfaced with a mid-weight fusing, features a canvas core, and neckline is taped with cotton for stability. It fastens at the centre front via lacing and eyelets.

It is lined with cute printed cotton while the outer is of crushed velvet, aka: "Why do I hate myself so much?"
The crown is not permanently affixed to the hood and can be inserted or removed easily.

The hood holds the crown comfortably on the wearer's head.
Once all of the cape's edges were bound, beaded embellishments were added around the edges.

If there's one thing I'm good at, it's embellishment.
Flowers and butterflies were positioned on the crown with the hood in place, and affixed with hot glue. Keeping in mind that the crown is not permanently attached to the hood and can be removed as long as you're gentle with the attachments.

Do not manhandle Oberon's crown.
Puffy pants feature four pockets; two at the front and two on the back, and fasten at the centre front via zip-fly in conjunction with a buttoned waistband.

Pockets have become an integral part of my costuming experience in recent years.
The tunic and trousers are both constructed from the same fabrics, with gold binding to match the cape; plus a number of small ribbon flowers and other bead work which was hand stitched on at intermittent points throughout the costume after everything else was all said and done.

Make. It. Shine.
Lastly, the tunic has black fringe around the sleeve cuffs for a bit of the ol' razzle-dazzle because why in the heckie not?

Shit nobody in the real world would ever look close enough to actually see.
That's it. That is all I have to say on the matter. This matter. These matters.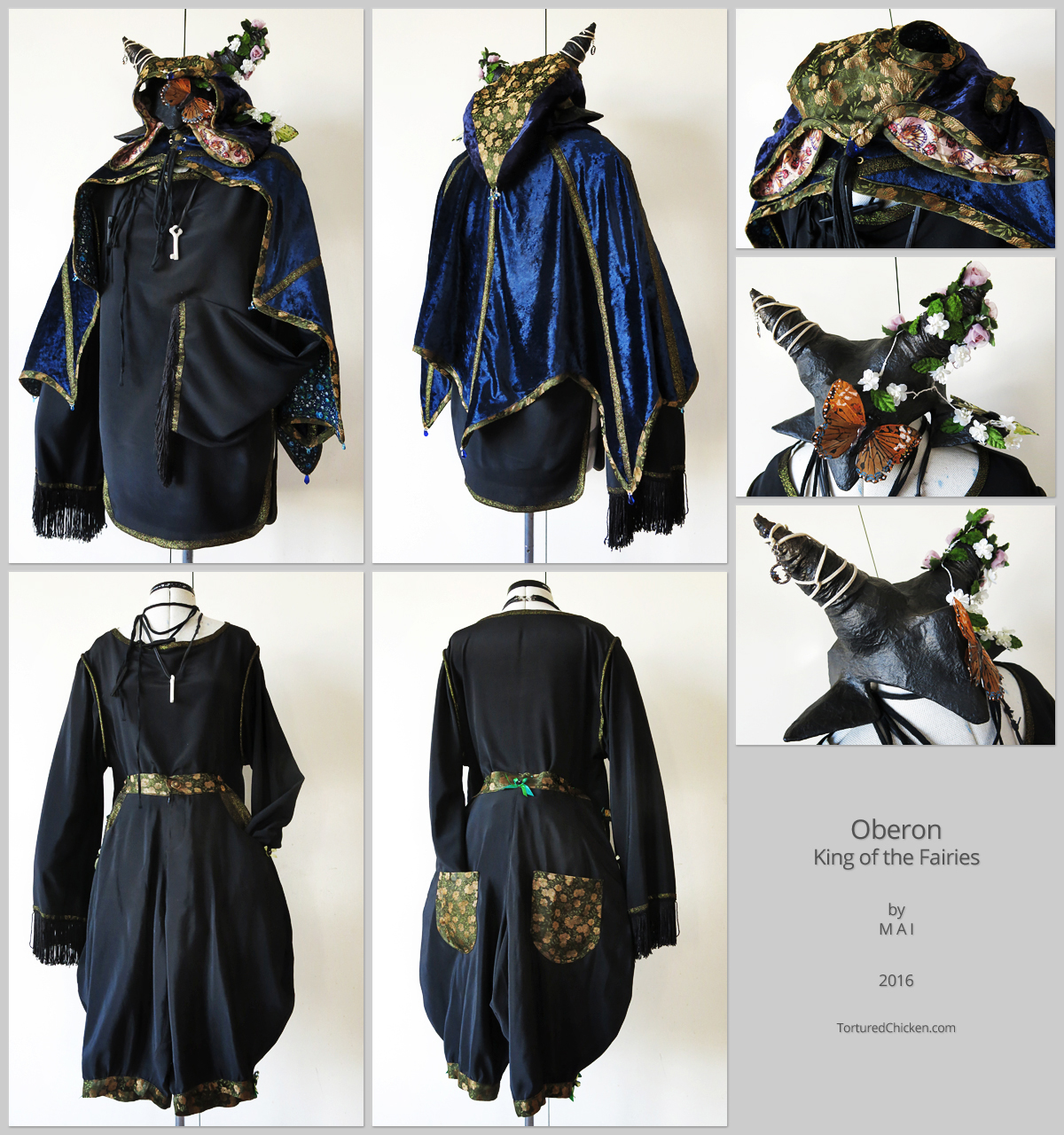 Complete. But you knew that already.
Does it matter?